Curio 9.2 Release Notes
Release Date
August 26, 2014
Requirements
Curio 9 runs on macOS Mavericks (10.9) or Yosemite (10.10).
Evernote Enhancements
Evernote Stack Support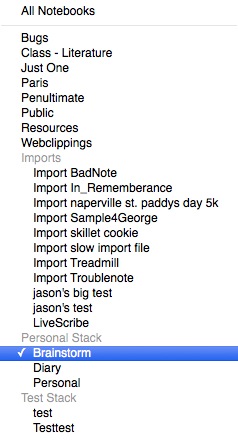 Curio will now display your notebooks in hierarchical stacks, if you're using that organizational feature of Evernote.
Reveal in Evernote

You can now right-click in the Evernote shelf and choose Reveal in Evernote and the selected note will be revealed in the Evernote Mac client.
Referenced From
In Curio you can create figure jump actions, jump anchors, and idea space links. Clicking on one of these types of figures will jump the user to another spot in the project: either another figure or perhaps an idea space.
Once you arrive at your destination you can use the various Back navigation methods (Organizer > Back menu item or keyboard shortcut, Option-click on the navigation bar's previous button) to go back to the originating source. But sometimes, while at a destination, you want to see all the jump figures that jump to this location. Now you can.
Right-click on a destination figure or idea space and you see a new Referenced From submenu. This contains all figures that jump to this location. Simply choosing one will jump you over to that source figure.

Note each figure is listed with their title plus, in parentheses, the figure's type and the title of the idea space it is located on, just in case the figure's title isn't enough to uniquely identify it for you.
This works for any local project jumps created with jump actions, jump anchors, or idea space links. However, this doesn't include any hyperlinks since those can be placed anywhere even outside of Curio.
Section Path Info
In this screenshot from the Organizer's context menu, notice that Curio will include section path information as well, if the source figure is located within a complex section tree.
Figure Rotation
Stepper

The figure rotation inspector now has a stepper for finer control of the rotation angle.
New Keyboard Shortcuts
And, in addition to the existing R and Shift-R keyboard shortcuts for rotating the selected figures by 45° and -45°, you can now press Option-R and Option-Shift-R to rotate by 1° and -1°.
Zoom Indicator
When zooming on the idea space view we now show an indicator so you know what scaling level you are at.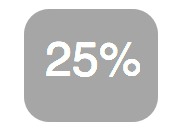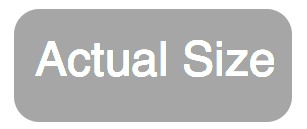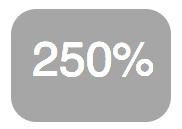 Scribble Inspector Shelf

When activating the brush and pen scribble tools a new Scribble inspector appears in the inspector shelf, if the inspector shelf is visible.
Filter on Top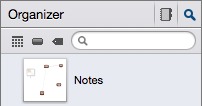 By extraordinary popular request, the filter bar is now at the top of the Organizer. If Sections panel is displayed then filter will be under that panel as it filters the displayed idea spaces and other Organizer items in the currently selected section.
Find within Notes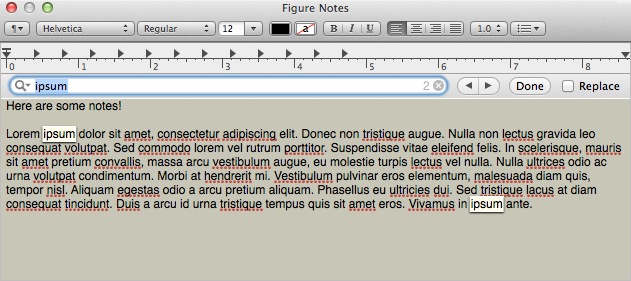 Pressing Command-F when the Notes floating window has focus will now show a Find bar within Notes so you can easily search for text.
Collection Enhancements
Major speed improvement made to large collections such as mind maps and lists so they update themselves much faster when typing.
With radial, left, and right maps there's now a bit of extra vertical spacing between branches that have children. That way they aren't pressed quite so closely together and, in particular, boundary shading looks better. With existing mind maps you won't notice the new spacing until you force a re-layout by modifying a node or pressing N (Natural Size) when the mind map is selected.
The Insert toolbar popover now shows items specifically for importing list, mind map, and tables from external files.
Importing mind maps directly from Biggerplate.com via the Insert popover works once again.
Fixed issue where importing a list from OPML resulting in an extra list title.
If a node in list or mind map is collapsed and you insert a new child then it will now automatically expand so you can see the children.
Slight tweak so mind maps update their bounds a bit less frequently while you are editing a figure.
Tweak so mind maps pick branch color settings when you add new top branches.
Meta Enhancements
If you hold Command down while clicking on a checkmark then the figure is checked and its due date is changed to today. This is handy because subsequent items in a list or mind map will instantly update themselves to begin now that the current task is done.
Now drawing a neutral gray color-coded bars on the sides of the date adornment when you mark an item as completed. That way these items remain lined up with other remaining tasks in a list.
Support for Date Adornment Format advanced setting so you can specify any format you want for the date adornments.
The presentation mode rating stars overlay, which appear when you hit numbers 1-5 to rate a selected figure, now looks much nicer.
Minor fix for focus change when dismissing mini meta popover.
Notable Tweaks
If you hold Option down while dragging a message from Mail we'll now store a link to the message within Curio instead of embedding a copy of the message.
The mouse click handling and editing frame for text figures in notepaper grid styles is now much more accurate.
Now showing overlay alias curled arrows on image thumbnails in the Project Library.
The Actions AppleScript editor no longer converts quotes to curly quotes, has a slightly bigger font, and a slightly bigger editing area.
The figure stack scroll speed via the mouse scroll wheel has been adjusted so it's much smarter about scrolling at a reasonable rate.
Added an Ideaspace Responsive Scrolling advanced setting if you regularly work with extremely complex idea spaces that may be slower due to the additional rendering required for responsive scrolling's offscreen cache.
Notable Fixes
Our Airmail support is more robust now: Curio will now look for either Airmail or AirMail via AppleScript.
Stability fix when you switch from a Organizer WebView to another Organizer item while the WebView was loading a page.
The Choose Custom Folder item in the idea space background inspector now works correctly.
When you switch to another application Curio will now correctly close any visible popovers.
Fixed Copy to Active Idea Space option in the Sleuth right-click context menu.
You can now Arrange > Uncollect multiple selected collections.
Fixed issue with broken jumps when cutting/pasting to a new idea space.
Fixed issue with cutting/copying/pasting a bookmark figure to another idea space.
Fixed issue when dropping a collection item onto a locked figure (which essentially drops it on the idea space).
Fixed an issue where PDF Mirror could crash when storing a backup of an existing PDF mirror.