Introducing Curio
Curio provides an innovative, freeform, notebook-like environment with all the integrated tools you need to take notes, brainstorm ideas, collect research, and organize your tasks and documents.
Curio's intuitive interface and tools encourage effective note gathering, research, and creative exploration. Its freeform, open environment encourages you to more easily visualize, associate, and recall information.
All of this within a single application so you can be more productive, more creative, and focus on getting things done.
Curio Editions
Curio is available in three different product editions to match your feature requirements.
Curio Core
We start with Curio Core. As its name implies, it contains all of Curio's core functionality including its amazing idea spaces; text, image, multimedia, and file figures; numerous collections such as lists and mind maps; and much more. Core is a great way to get started with the world of Curio.
Mac App Store Restriction
Note that the Core edition is only available from the Zengobi website and not from the Mac App Store.
Curio Standard
Next step up is Curio Standard. Dive into more features to really help you take your productivity to the next level with reusable stencils and templates; brushes & pens for quick sketching; more advanced PDF features; Calendar and Reminder syncing; Evernote integration; and our Sleuth internet assistant.
Note
If a feature is only available in Curio Standard then it will be marked in this documentation with .
Curio Professional
For our power-users, we proudly offer Curio Professional. Truly a premiere product with figure layers; cross-references; master styles, stencils, and templates; consolidated task tracking with the Status shelf; presentation mode; regular expression support in the Search shelf; project password and advanced settings; plus much more.
Note
If a feature is only available in Curio Professional then it will be marked in this documentation with .
Availability
Curio is available from Zengobi's website, with traditional licenses, and Apple's Mac App Store, as a subscription.
Curio From the Zengobi Website
Curio traditional licenses are available from the Zengobi website. Clicking the download link will cause your browser to download the Curio application to your Downloads folder.
License Agreement / Privacy Policy
Curio purchased from the Zengobi website is covered by this License Agreement.
Our Privacy Policy details what personal information we collect, why we collect it, and how we use it.
Important
The Zengobi website version of Curio only works with traditional license keys, not subscriptions.
Installing
Once downloaded, drag the Curio application from your browser's Downloads folder to your Mac's Applications folder to install. Optionally, to create a shortcut on your Dock, drag Curio from your Applications folder to the Dock to create the shortcut.
Important
You must use the Finder to drag Curio from Downloads to Applications, as only the Finder can clear the macOS Gatekeeper check. Otherwise, macOS will launch Curio from a randomized, read-only location created on-the-fly, which will prevent Curio from being able to update itself if updates are available.
Trials and Purchasing
Curio initially launches as a 2-week, fully functioning trial with all features enabled (aka the Professional edition). On the very first launch, the bundled Welcome to Curio project will automatically open with a guided tour and sample gallery showing off Curio's amazing features.
At any time before or after the trial expires, you can purchase a license key from our online store to activate your installation using Curio's License dialog.
Reader Mode
If you decide not to purchase a license, you can continue using Curio as for read-only browsing, printing, presenting, and exporting of Curio project files. The toolbar and interface will change to reflect this simplified functionality. At any time you can still purchase and enter a Professional, Standard, or Core license key and the interface will refresh itself to enable the appropriate functionality.
Updates
When you purchase a license, you get one free year of app updates including major and minor features, fixes, and updates for macOS compatibility. Curio will notice the available update and download and install the new release automatically.
At the end of this period, your Curio app continues working normally – it does not expire or deactivate – however, you will no longer receive app updates. Whenever you wish, you can purchase an upgrade license to update to the latest version and receive another year of app updates.
Learn more about the year of free updates in our Curio Traditional Licenses FAQ.
Note
In the future when you decide to purchase an upgrade, Curio will notice your existing license has been extended and update itself to the latest release if necessary. There's no need to download or install anything or even type in a new license key. It will all happen automatically.
License Dialog
The License dialog (via the Curio > License menu):
Shows your current trial state (if in a trial),
Allows you to enter or paste a purchased license key to activate your installation,
Shows your current license details.
Entering Your License Key
After entering your license key, Curio's features and functionality may change as appropriate for the entered key. For example if you purchase a Curio Standard license then Professional features will be removed from the interface. Likewise, entering a Curio Core license will remove Standard and Professional functionality. As a note, you can always purchase a crossgrade license if you wish to upgrade your Curio edition.
License Details
If a licensed installation, the License dialog shows your current license details including the last date for free updates and the number of installations using your license (plus the ability to deactivate those installations and retrieve an updated license if something seems amiss).
Available Free Updates
The License dialog will let you know if your license allows you to freely update to a newer version of Curio on your current macOS or even on a newer macOS.
Available Updates If You Upgrade
And, if you're beyond your free updates end date, it will report what Curio versions are available, both on your current macOS and on a more recent macOS, if you were to purchase an upgrade to extend your license.
Activating
When you enter a license key into Curio, or click the instant activation link on the purchase page, Curio activates your installation by confirming your license with Zengobi's server and retrieves the properties associated with your license such as edition (e.g. Pro vs Standard) and free updates end date. It will also send you an email letting you know that a new installation was activated with this license.
On every launch, in the background, Curio tries to check in again with the Zengobi server to see if new updates to Curio are available or if your license has been updated, perhaps giving you access to a different edition of Curio or extending your date for free updates if you've recently purchased an upgrade. If it can't reach the server, it simply uses the results from the last successful query.
Sample License Dialogs
Here are some sample License dialogs demonstrating the types of information you might see: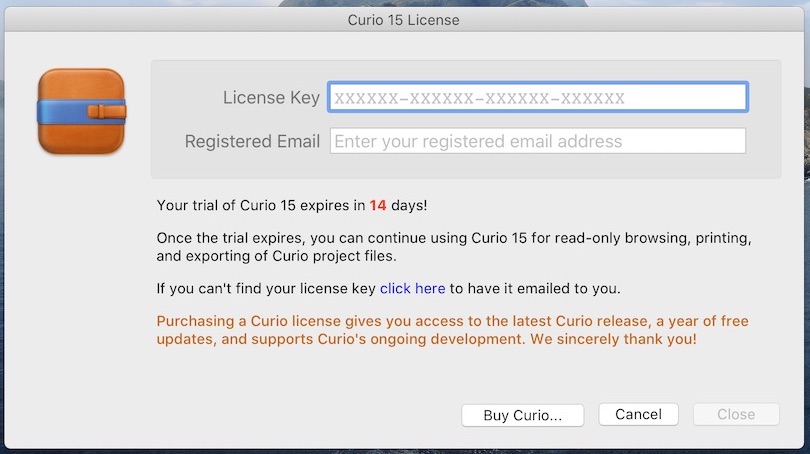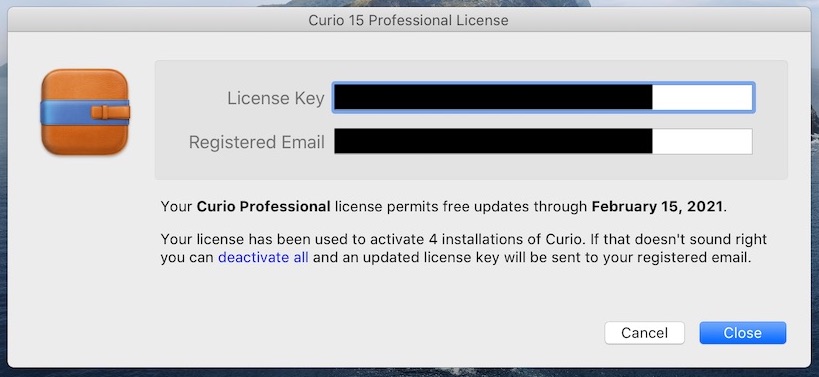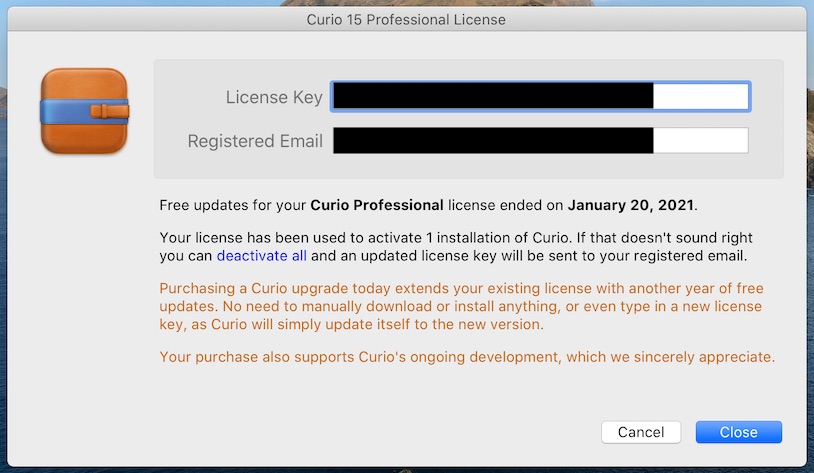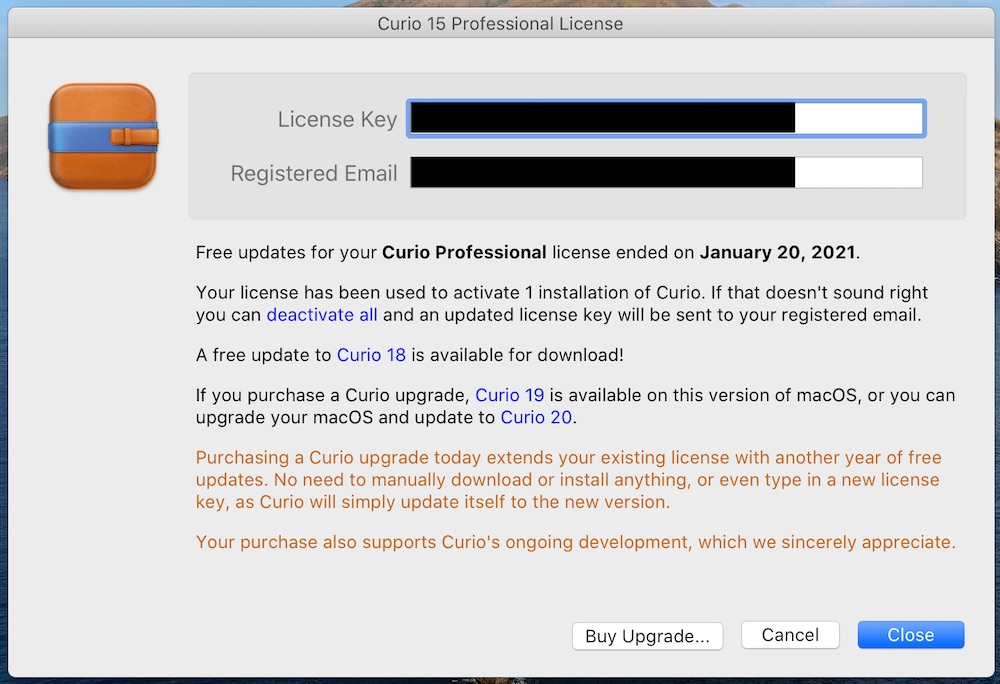 Curio From the Mac App Store
You can install Curio from the Mac App Store and use it for free without a subscription in a read-only mode to view, export, and print existing projects, including our bundled Welcome to Curio project which automatically opens on first launch and provides a guided tour and sample gallery showing off Curio's amazing features.
License Agreement / Privacy Policy
Curio purchased from the Mac App Store is covered by Apple's standard License Agreement.
Apple's Privacy Policy details what personal information they collect, why they collect it, and how they use it. You may also want to read Zengobi's Privacy Policy which details what personal information we collect, why we collect it, and how we use it.
Important
The Mac App Store version of Curio only works with subscriptions, not traditional license keys.
Frequently Asked Questions
We invite you to check out our Curio Subscriptions FAQ to learn everything about subscriptions.
Trials and Purchasing
Then, when you're ready to dive in and create your own projects, start a 2 week free trial by subscribing to a Standard or Professional monthly or yearly plan from within Curio, which instantly unlocks the appropriate features.
Updates
The Mac App Store app will make sure the Curio application is always up to date, downloading and installing major and minor updates silently in the background.
Expired Subscription
If you haven't subscribed or your subscription expires without renewal, then Curio will go into a read-only mode. In this mode you can only view, export, and print existing projects. You cannot create new projects or modify existing projects.
Note that your Curio app will still continue to be auto-updated by macOS, receiving not only bug fixes and macOS compatibility updates, but also new features and enhancements ready for you to use if you later decide to renew your subscription.
Reader Mode
It's worth noting that this functionality means you can easily share Curio projects with friends and colleagues that don't own Curio, as they can simply download Curio for free from the Mac App Store and view your projects in read-only mode.
Getting Help
The Help menu in Curio provides one-click access to more information:
What's New in Curio
See what's new in the current major version release of Curio.
Keyboard Shortcuts
Choose the Help > Curio Keyboard Shortcuts menu item to see all of Curio's shortcuts.
Zengobi's Blog
Choose the Help > Zengobi Blog menu item or visit blog.zengobi.com to read the latest news from Zengobi.
Zengobi's Forums
Choose the Help > Zengobi Forums or visit forums.zengobi.com to chat and share with other Curio customers.
Zengobi on Social Networks
Choose the Help > Zengobi on Twitter or Help > Zengobi on Facebook menu item or visit www.twitter.com/zengobi or www.facebook.com/zengobi to check us out on Twitter or Facebook, respectively.
Contacting Zengobi
Lastly, at the end of the Help menu you can send Zengobi feedback or ask us a question. We'll write back as quickly as possible!
You may also want to visit www.zengobi.com/support for more information.
Curiota
Curiota is a free companion app, available via the Mac App Store, that opens up even more productivity with Curio. Curiota runs silently in the background, consumes very little memory, and has a minimal user interface: you just see a simple icon up in the menu bar. Click on that icon to create quick notes, or drag files and links to the icon to quickly add files.
The most important thing is that Curiota uses an open system for storing notes and files. There's no proprietary file format or database that could be corrupted. It's your data and you will be always able to access it, even outside of Curiota, for decades to come.
Curiota also supports print services (so you can "print" to Curiota), works as an macOS Share extension, is accessible via your Services menu, and is easily scriptable. All of the submitted notes and files are accessible and searchable using Curio's Local library shelf, discussed below. More information about Curiota can be found at www.zengobi.com/curiota.
Visit our website to learn more about Curiota.